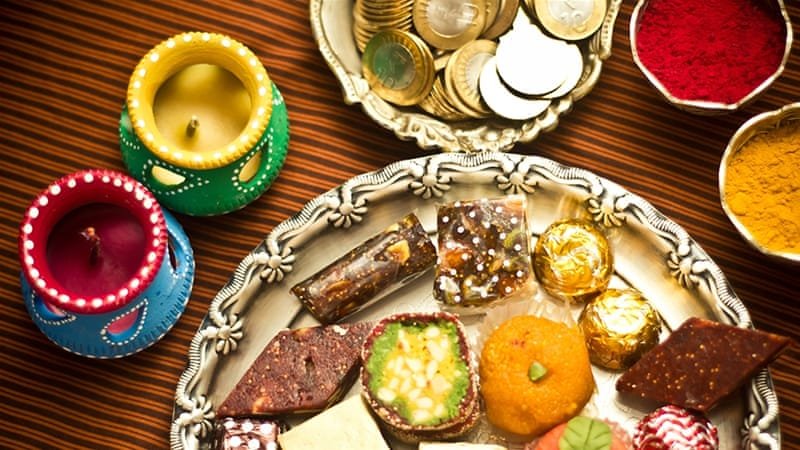 Celebrate Diwali with Mesmerising & Unique Flower Decoration
The sheer triumph of light over darkness is very close to our heart. This festival is for everyone, right from kids to grown-ups, it brings sheer joy to all. The brimming bright lights, eye-soothing diyas, savoury home-made delicacies and our loved ones are what defines our Diwali.
The most important aspect of this glowing festival is a unique flower decoration of our home sweet home. In this piece, we will have a look at some of the unique floral home decoration for Diwali which is too beautiful to resist. Let's get straight into it.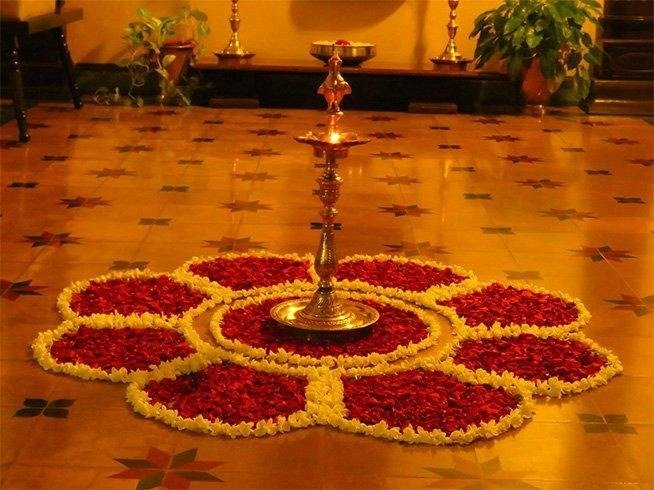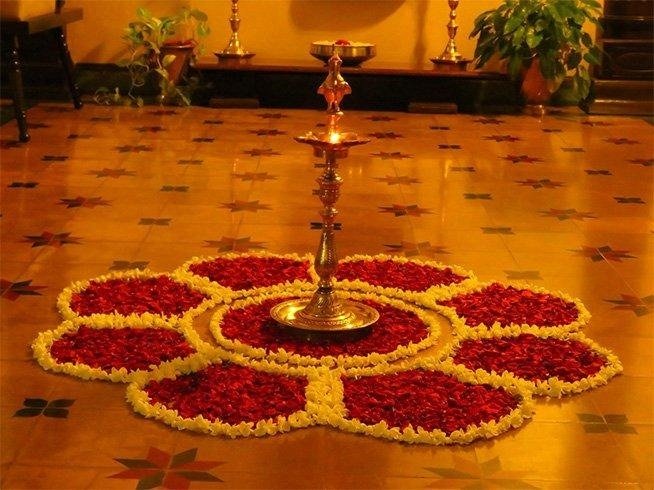 Amazing floral decoration to make this Diwali special:
1. Flower Rangoli To Begin With:
The first thing which anyone notices is our house's entrance. What's better than welcoming our guest with mesmerising floral rangoli. Instead of using artificial colours to craft your creativity, use various colours of beautiful floral petal and surprise everyone with your rangoli masterpiece.
Use colourful candles and diyas to decorate rangoli. You will find amazing rangoli designs online, just take out your phone and search for Diwali decor rangoli.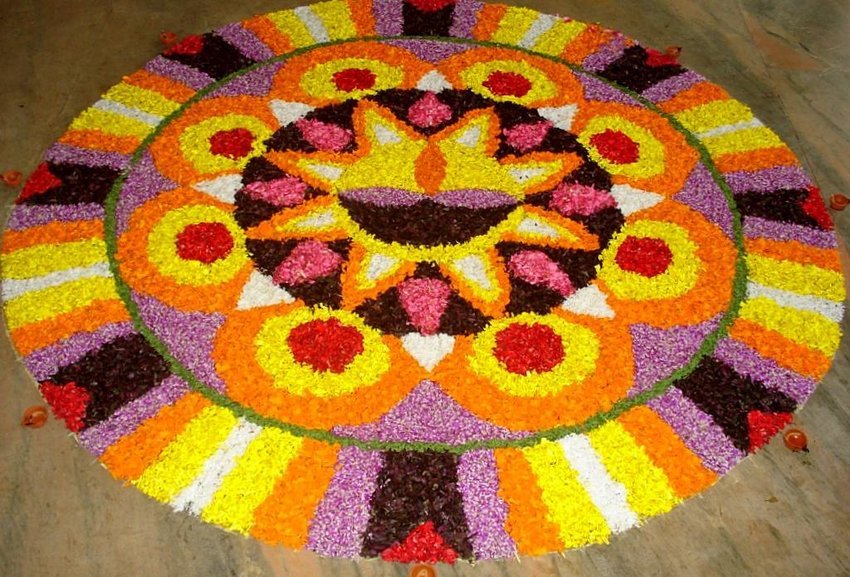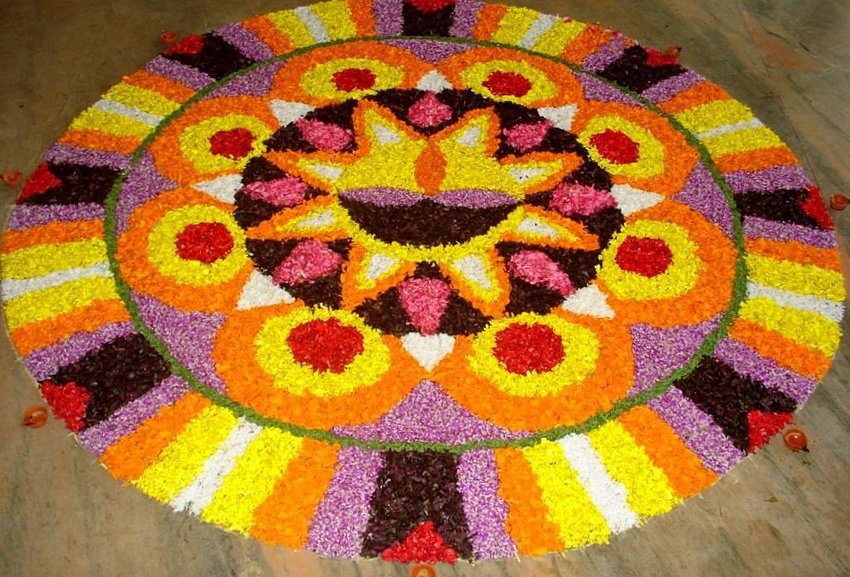 2. Floral Toran:
Second most important Diwali decor is beautiful floral toran. A toran also is known as Bandanwal is a kind of handmade door hangings which are specially created to celebrate Diwali. Go for floral toran made up from marigold blossoms and mango leaves.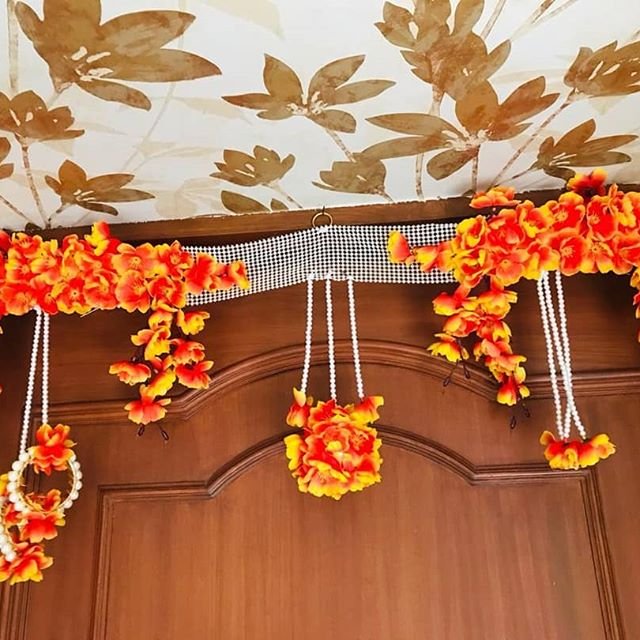 There are also a huge variety of artificial torans available online made up of decorative items and artificial florals. You'll easily find online flower services which offer handmade fresh torans so you don't have to make it by yourself.
3. Entrance and Staircase decor:
Let the fragrance of red roses and lights of oil lamps fill your home with positive vibes. Use small oil lamps along with fresh roses to decorate the entrance and stairs of your place.
You can also use scented candles along with flowers to decorate the balcony or entrance. Go for floral garlands to cover staircase railings and decorate the balcony with LED lights with marigold garlands.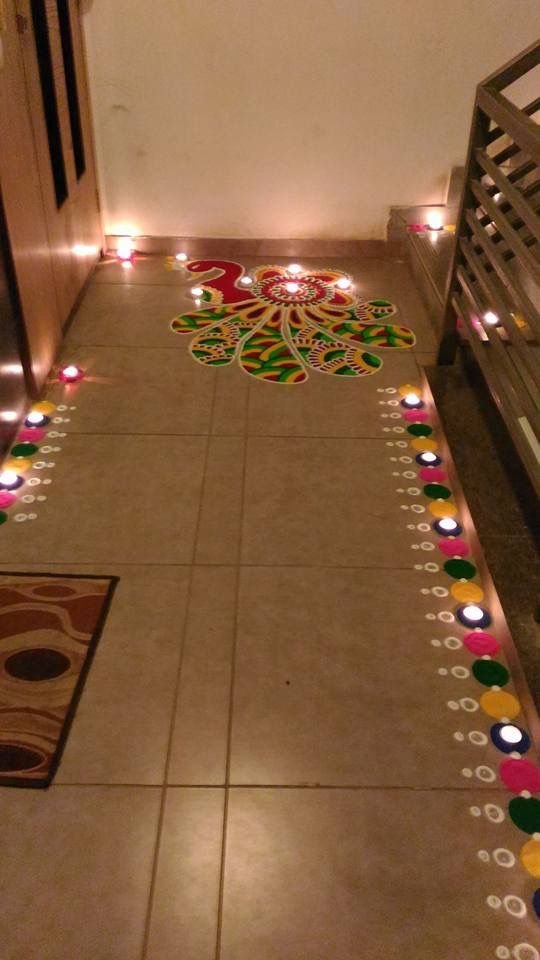 4. Let the centre table become the main attraction:
The days of diwali is all about spending quality time with our loved ones and make priceless memories. Needless to say, the centre table is the showstopper of our living room. Go for a nice big flower frill for the table which will grab everybody's attention. This is among the best decor ideas you can have for your coffee table.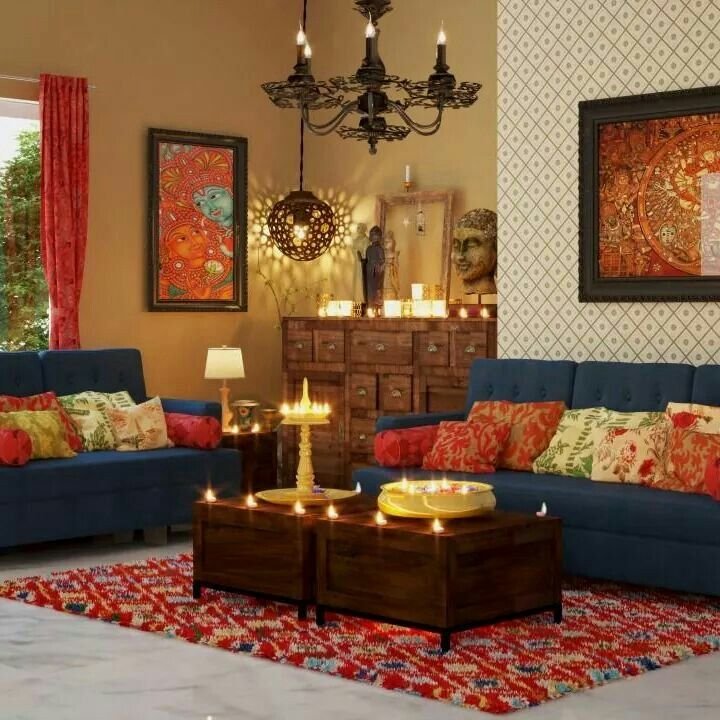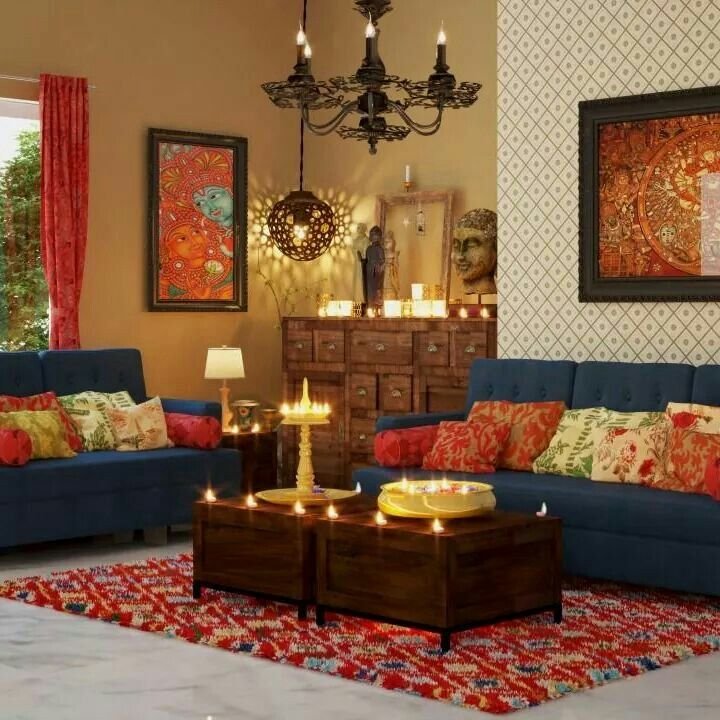 Search for online flower delivery near me from your phone and order pre-made floral frills or customize it from your florist. Get same-day flower delivery from your nearest florist.
5. The duo of flowers and gifts:
When it comes to Diwali festivities, flower and gifts go hand in hand. Planning to gift your loved one something different this time? Go for special deliver flowers.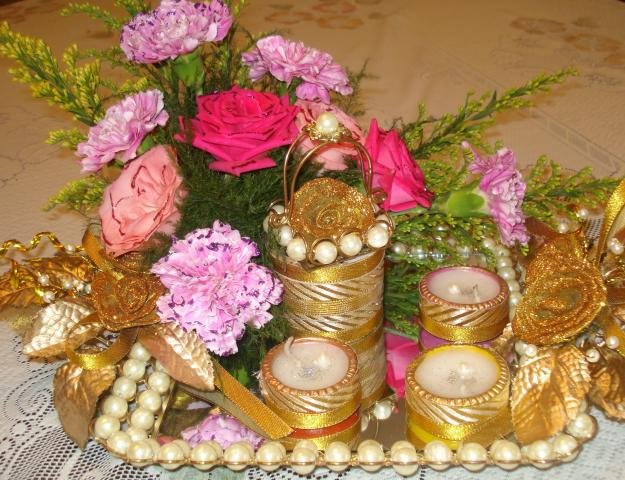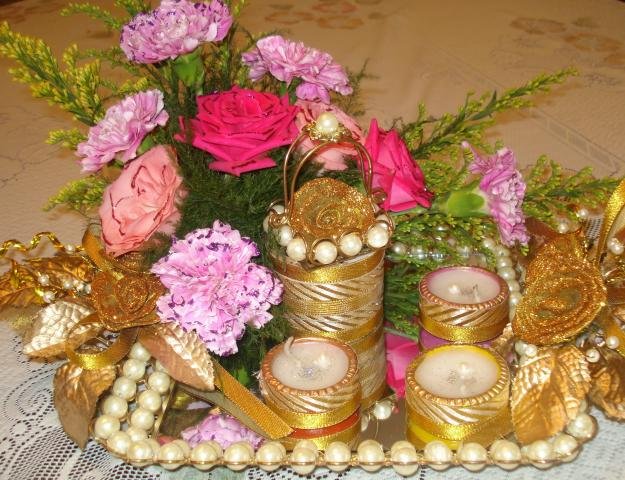 You will find many florists which offer Diwali special floral bouquets. Who doesn't love to receive fresh and fragranceful blossoms? Go green and gift fresh blossoms. Looking forward to gifting something different, just club the Diwali gifts with fresh flowers and elevate the joy.
6. The glory of fresh garlands:
Our Indian festivals are deeply connected with fresh floral garlands. And, when it comes to Diwali, the gist is something more special.
Let the balcony and the railings flaunt naturally with fresh marigold garlands. You can also customize the garlands from any florist providing online diwali flower decoration services.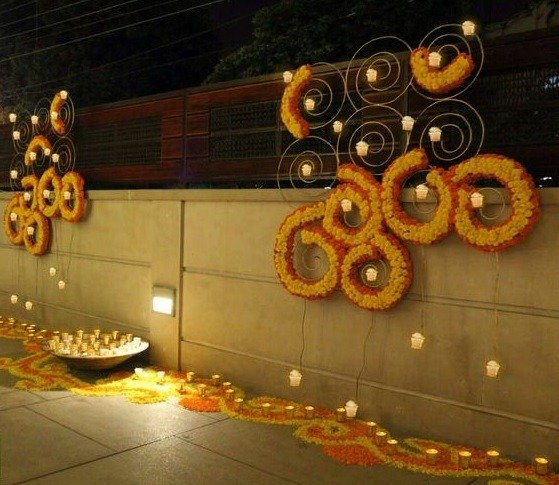 7. Flower wall and ceiling hangings for diwali:
Make the living room alluring by using chains of roses and marigolds to decorate walls and ceilings. Go for low hanging flower chains to glam up the living room ceiling. You can use artificial floral chains as they are available in various styles and colours to match your Diwali decor theme.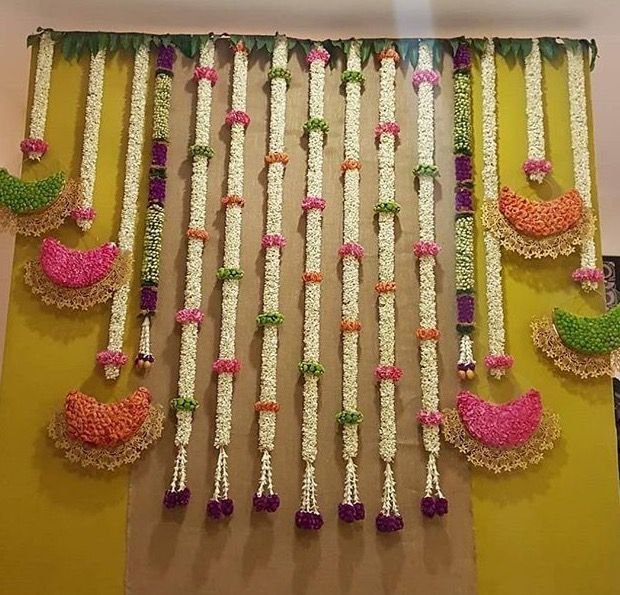 8. Hosting an outdoor Diwali party?
Add a twist of florals to your diwali party decorations with amazing flower altars and table decor. Ditch the traditional drape and lights decor for your party, go natural with beautiful blossoms. Decorate the dining table of the party with exotic flowers like carnations, roses and orchids.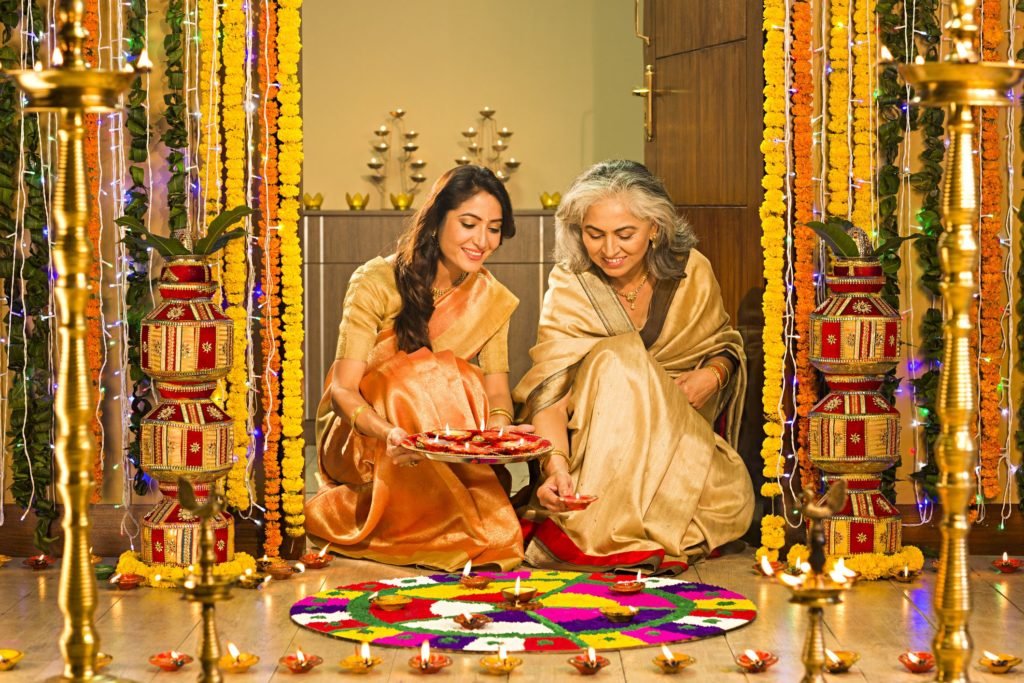 Order flowers for your party in advance. If you are planning a theme for it, let the florist know so that he can suggest other amazing ideas. Make your Diwali party a memorable one with the touch of amazing florets.
This year, get the best flower decoration for your place. Let your home shine with the natural mesmerizing beauty of nature and make everybody feel pleasant.
Diwali is just a couple of weeks far and it's time to get indulge into amazing festive vibes and have some quality time with our loved ones. Celebrate the conquering of good over evil with amazing floral decor and spread positive vibes.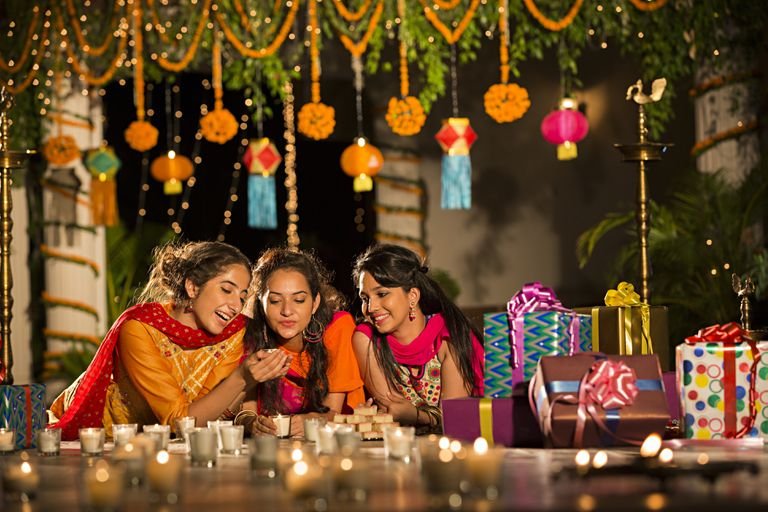 If you live abroad and want to send florals and gifts to your loved ones in India?
There are many florists which brings you doorstep flower delivery in India. Surprise everyone with your lovely natural gift and bring a bright smile. Get started with your flower decoration now and make your place Diwali ready.
This service is exclusively offered by https://www.bloomsonly.com/
Author's bio
Pratik is the owner and manager of Blooms Only. He is offering contemporary and innovative online flower arrangement services in Pune for Diwali. Blooms only team has earned 100% customer satisfaction for same-day or midnight or on-time flower delivery services in Pune.
diwali
floral decor