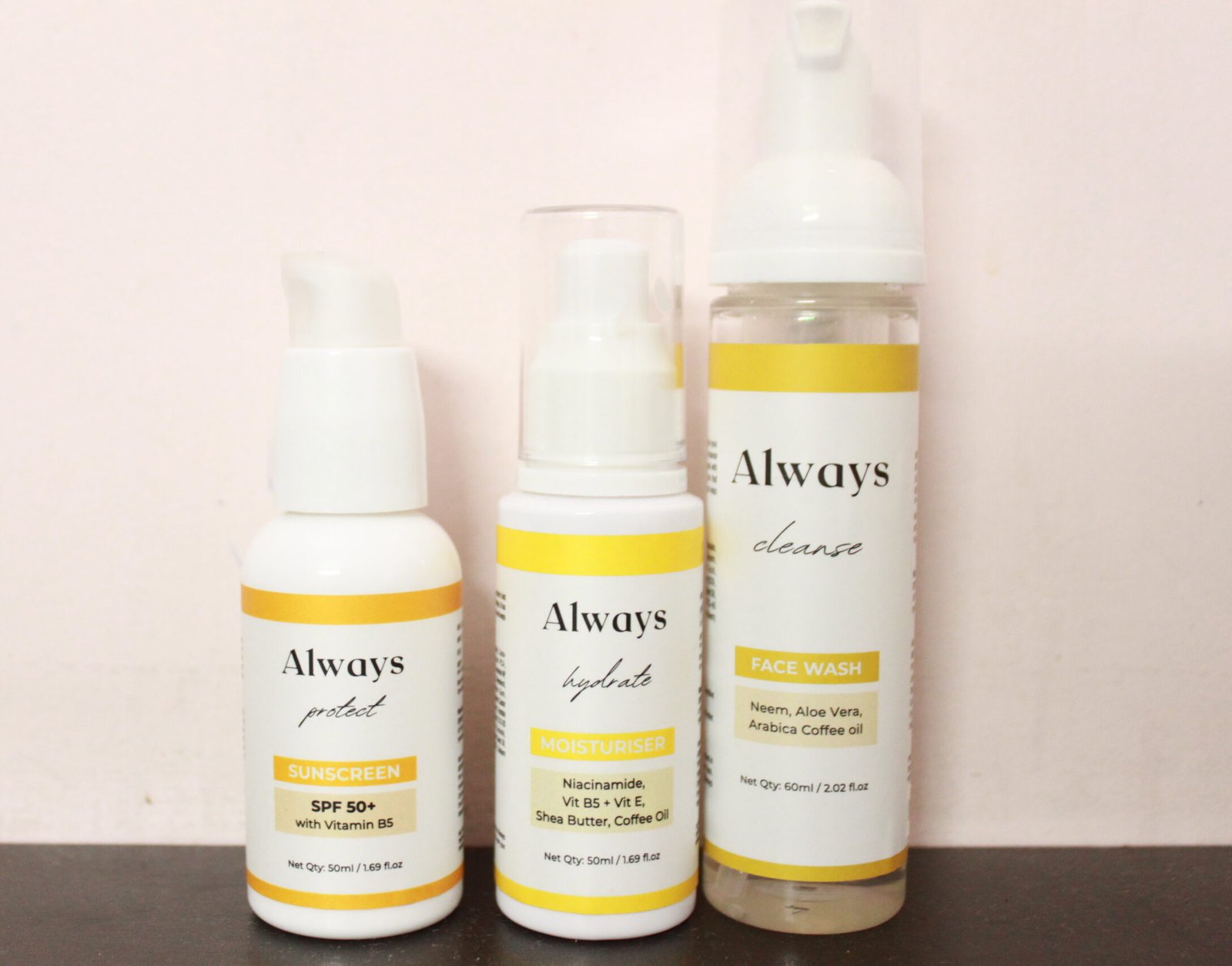 Do More Always Product Review (Face-Kit)
As the Monsoon season is around the corner, it's time to take follow the perfect skincare regime. The Humidity and dampness in the environment can cause different types of skin issues including skin allergies, infections, acne and rashes.
I tried some of Do More Always skincare products recently and would like to share my experience with you guys too. The products that I tried included Always cleanse, always hydrate and always protect. Always skincare range is specially made according to the needs and demands of athletes and individuals who spend hours in gym or sweat a lot.
In this skincare post, I have reviewed always cleanse (face wash), always hydrate (moisturiser) and always protect (sunscreen). These skincare products can easily be shopped from their official site or even on Amazon.
Always Cleanse Face Wash Review
Always cleanse is a foaming face wash that comes with refreshing, anti-bacterial and anti-microbial properties. The best part about this face wash is that it not only helps cleansing but also provides appropriate moisture to the skin and prevents skin dryness. I tried the face wash for a week and could easily tell by touching my skin that it was fully hydrated. Moreover, it helps in achieving that flawless, acne-free skin.
INGREDIENTS
Extract of neem fights against the acne-causing bacteria and keeps your skin hydrated and fresh as it is considered as a rich source of antioxidant.
Glycolic Acid works in providing healthy skin and radiant glow on the skin naturally.
Aloe Vera helps in getting rid of blemishes and acne scars while restoring skin tone and facial glow.
For smooth and brightening skin, coffee oil acts as gentle exfoliator.
STEPS TO USE
Step 1 – As a first step, clean your face with water.
Step 2 – Take a small amount on your palm and gently massage with your fingertips to get rid of dirt and the extra oil on the skin.
Step 3 – Next, Rinse it over with water and pat dry with a clean cotton towel gently.
Step 4 – For best results, apply Always Hydrate moisturizer which will help your skin glow naturally.
PERKS
All the products of Always come with high-quality ingredients. Additionally, they are clinically proven to be 100% safe and are cruelty-free.
Always Hydrate Moisturiser Review
Always Hydrate Moisturiser is formulated with the quick-absorbing formula which is not only lightweight but also keeps your skin hydrated. Furthermore, it is infused with Vitamin B5, Shea Butter and Vitamin E which helps in radiant glowing skin.
INGREDIENTS
Presence of Niacinamide helps minimizing enlarged pores, even skin ton, reducing the wrinkles as it is a water-soluble vitamin that works with the natural substances.
Vitamin B5 works as a natural skin healer and protectant which helps in improving skin softness and elasticity.
Shea Butter is considered as rich source of Vitamin A, E and C.
STEPS TO USE
Step 1 – After using Always cleanse face wash, pat and dry your face.
Step 2 – Then take an appropriate amount of moisturiser on your palm and massage it all over your face.
Step 3 – To protect your skin from harmful sunrays, apply Always Protect sunscreen.
PERKS
Always Moisturiser is suitable for all weather conditions. Additionally, it heals and repairs your skin's barrier post face wash. The moisturizer provides 24-hour moisturisation.
Always Protect Sunscreen Review
Always Protect Sunscreen comes with SPF50+, providing full protection from all harmful UVA and UVB rays. Sunscreen is one of those products which can't be compromised with; I am really particular about my sunscreen routine.  This sunscreen gets easily absorbed on the skin providing necessary moisture.  One of the best qualities was that it can be applied under makeup as well due to its lightweight and non-oily property.
STEPS TO USE
Sunscreen is best effective if applied 15-20 minutes before exposure to sunlight.
2. It should be applied in a routine whether you are indoor or outdoor.
3. If you are being out in direct sunlight for too long, you must reapply every 2-3 hours later.
PERKS
Unlike other sunscreens, it doesn't leave your skin sticky, oily or white residue. Rather it is ultra-lightweight and breathable when applied. It is made in such a way that it gives full protection against free radical damage.
Among all these 3 skincare products of "Do More Always",  sunscreen turned out to be one of favourites. As it is ultra-lightweight and provides full skin protection when exposed to the sun.  Do check them out and comment on which one you liked the most.
Also check out the Always body Kit review, if you haven't yet.!!