Review of Lotus Botanicals products
Witnessing hair and skin problems will not be an issue anymore as I am about to share my experience after trying out some of the products from lotus botanicals. With a wide range of products in the market, it can be challenging to choose what's best for us in terms of our bodies along with affordability.
Lotus botanical's products are certified safe with no preservatives and toxic chemicals. They are naturally based i.e., made from natural, plant-derived and ethically grown ingredients.
Talking about skin and hair, sometimes simply washing doesn't feel enough as they go through so much as in polluted air, dust etc. But recently, I got my hands on Hyaluronic Acid + Raspberry Ultra Glow Hydration Boosting Face Serum and Natural Baking Soda Deep Cleansing Face Scrub along with two hair products; Red Onion Hair Revitalizer and Red Onion Nutritive Hair Conditioner.
1. Natural baking soda deep cleansing face scrub
The concentration of baking soda in a face scrub makes a great combination as baking soda eliminates dead skin cells and makes the skin look even-toned. Using this face scrub helps in will reduction of not only acne but also, pimples and blackheads resulting in squeaky-clean skin.
The steps for using are as follows:
-Put a coat of scrub on your damp face and neck.
-Use your fingertips to rub the area in a clockwise and anti-clockwise motion gently.
-Rinse off with water
-Ideally, use twice weekly for optimum results.
2. Hyaluronic acid + raspberry ultra-glow hydration boosting face serum
This face serum comes with a lightweight texture that absorbs quickly into the skin. Ingredients including raspberry, niacinamide and hyaluronic acid add to its quality of making your skin hydrated.
For brighter and healthier skin, this serum can be applied by using the following steps:
Apply a few drops on your freshly washed face or after toning.
Massage it into the skin
For the greatest results, use twice daily.
3. Lotus Red onion hair revitalizer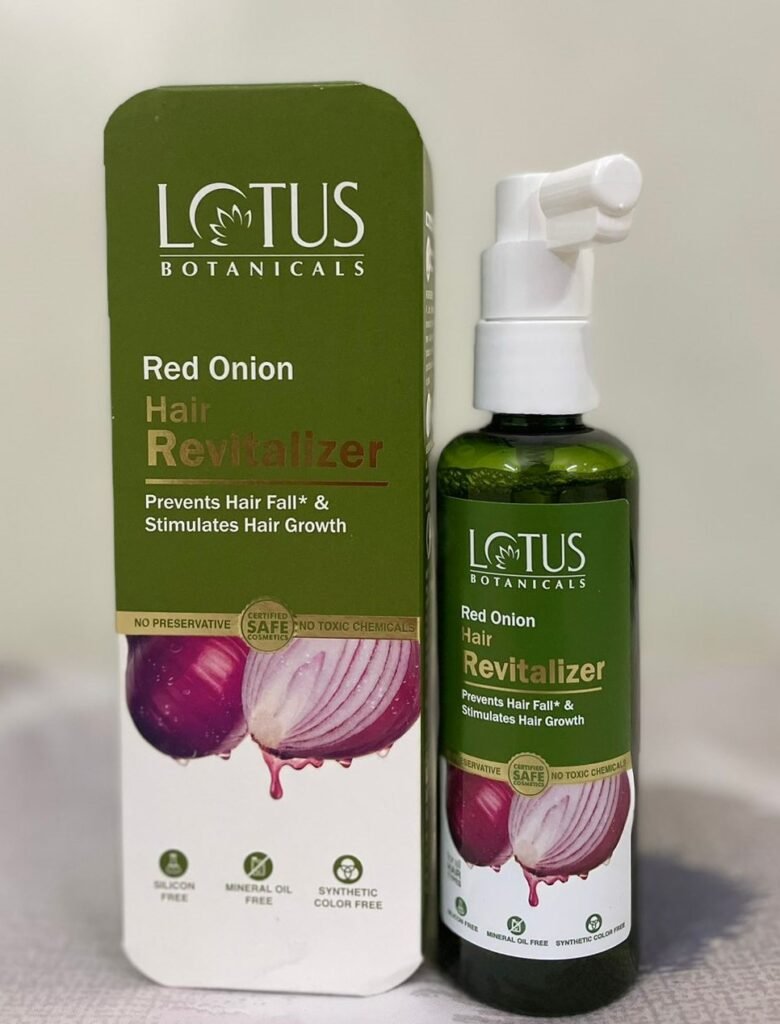 Treating your hair with care and giving your scalp strength can be done by using this hair revitalizer by Lotus which contains natural red onion extracts. It locks moisture for shiny and silky hair and results can be seen when used daily.
Deep nourishing and growth of hair can be noticed with the right use of this product that is:
On the scalp and hair roots, spritz this product.
Gently massage
Avoid rinsing
4. Red onion nutritive hair conditioner
Sometimes simply washing your hair with shampoo doesn't do the needful so the right solution would be the use of conditioner. As the name suggests, Red onion nutritive hair conditioner is enhanced with extracts of red onions that decrease hair breakage and improves hair volume.
For the correct use of this conditioner:
After shampooing and rinsing, remove any extra water from your hair,
From an inch above the root to the tips of the hair, apply conditioner.
After two to three minutes, thoroughly rinse it.
These four products did wonder for me and hoping the same for you as well. Not only these but other products from lotus botanicals give remarkable results with the correct use.
My favourite product would be the Natural baking soda deep cleansing face scrub as my dry skin stays soft and hydrated after I started using this scrub.
Also, check out some of these amazing gifting items which I ordered from BigSmall.in.